Patient Success Stories
by Angie Miller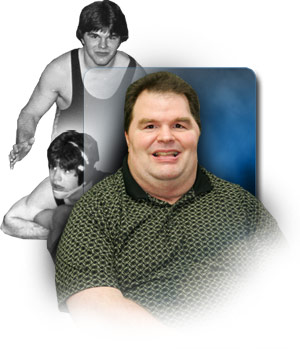 Robert "Cubby" O'Brien
Robert "Cubby" O'Brien is a former state wrestling champion and wrestling coach at Elida Middle School (Elida, Ohio). Years of wrestling took a toll on his hips. Cubby knew that hip surgery was inevitable, but had been putting it off for years. Then in 2001, Cubby suffered a massive stroke. The stroke left him paralyzed on his right side and unable to speak. Doctors were unsure of his prognosis but after almost 100 days in the hospital, Cubby left the hospital in a wheelchair. Determined to walk again, he underwent weeks of physical, occupational and speech therapy. Cubby did reach his goal of walking again without any assistive devices. He continues to struggle with his speech but has found ways to communicate.
After recovering from his stroke, it was time to do something about his hips. Cubby began meeting with doctors and was turned down twice. He grew very disappointed since the pain in his hips was becoming unbearable. Finally, Cubby met with Dr. James J. Patterson at the Orthopaedic Institute of Ohio. Dr. Patterson did his assessment and said "When do want to have your surgery?" Cubby was overjoyed that Dr. Patterson was up to the challenge.
Cubby felt immediate pain relief as soon as the day after surgery.
Cubby had surgery on his
left hip in August 2006
at the
INSTITUTE FOR ORTHOPAEDIC SURGERY (IOS)
. Cubby felt immediate pain relief as soon as the day after surgery. The most difficult part was getting out of bed that first time. It was hard for Cubby to trust the new hip at first. He spent a few days at IOS and was then transferred to
St. Rita's Medical Center
, (Lima, Ohio) for inpatient rehabilitation. Since he had previously suffered a stroke, he needed a little more physical therapy. Cubby returned home after a few weeks and had a few visits from home health just to make sure he was able to get around okay in his home. Limited in his speech, Cubby told everyone he came in contact with "Patterson, good doctor." It was obvious that he had a great experience with this surgery and hoped he would be able to get his other hip done too.
After following up with Dr. Patterson, it was decided that the right hip would be done in December of that same year. Cubby was so happy, he was tearful. He was so glad to have found such a wonderful doctor. When asked if he wanted the second surgery at IOS, Cubby said "YES, YES, YES!" The second surgery went just as well as the first. This recovery would be a little more challenging since the right side was his affected side after the stroke. Once again, he spent a few days at IOS and then off to St. Rita's for more therapy. After arriving home, Cubby set little goals for himself at first getting out of bed himself and then going outside by himself. His ultimate goal is to walk in the woods at his home. Cubby is grateful to Dr. Patterson for doing such a wonderful job and relieving his pain. He is also grateful to all the staff at IOS that took the time to communicate with him and make sure his needs were met. Today, Cubby is living at home with his wife Linda, pain free and continues to tell everyone how much he loved IOS and Dr. Patterson. Cubby is looking forward to that first walk in the woods...as soon as the weather permits!
---
Another Patient Success Story

Maryan Driggers
After having her first total knee replacement done at IOS, she was so satisfied that she came back to IOS to have her other knee done. Read about a typical IOS satisfied customer's story.