Patient Letters
Wanda Stokely, Testimonial Letter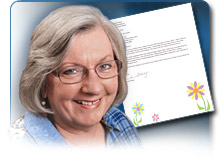 Dear Dr. McDonald,
I was a patient at your facility in the month of October 2009 and again in January 2010. I wish to tell you how pleased I was with my stays there both times. I was treated as if I were a guest in a 5 star hotel. Everyone was so pleasant and accommodating. The team work was evident in all that went on.
"I was treated as if I were a guest in a five – star hotel."
I also had the same experience with you physical therapy department. Both times I was blessed by the work of Samantha and Stacey. The other staff were helping each other all of the time. Having a background in management and understanding the need for cooperative teamwork, it was a pleasure to watch the people work.
I would be more than happy to recommend your facility and Dr. Patterson to anyone who would ask me.
Sincerely,
Wanda Stokely
---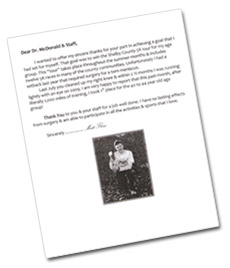 Matt Flora , Athlete, Testimonial Letter
Dear Dr. McDonald & Staff,
I wanted to offer my sincere thanks for your part in achieving a goal that I had set for myself. That goal was to win the Shelby County 5K tour for my age group this 'tour' takes place throughout the summer months & includes twelve 5 K races in many of the county communities. Unfortunately I had a setback last year that required surgery for a torn meniscus.
Last July you cleaned up my right knee & within 2 ½ months I was running lightly with an eye on 2009. I am very happy to report that this past month, after literally 1,000 miles of training, I took 1st place for the 40 to 44 year old age group!
Thank you to you & your staff (at IOS) for a job well done. I have no lasting effects from surgery & am able to participate in all the activities & sports that I love.
Sincerely,
Matt Flora
Patient Quotes from Patient Satisfaction Survey Comments:
"The place has really go it together"
"Clean professional atmosphere, very impressed"
"Friendliness, courtesy, concern about me"
"Staff kind and professional"
"Very professional and friendly"
"Cleanliness & friendly staff"
"How organized it is"
"It is just a great facility with very good doctors"
"The efficiency and expertise of the entire staff"